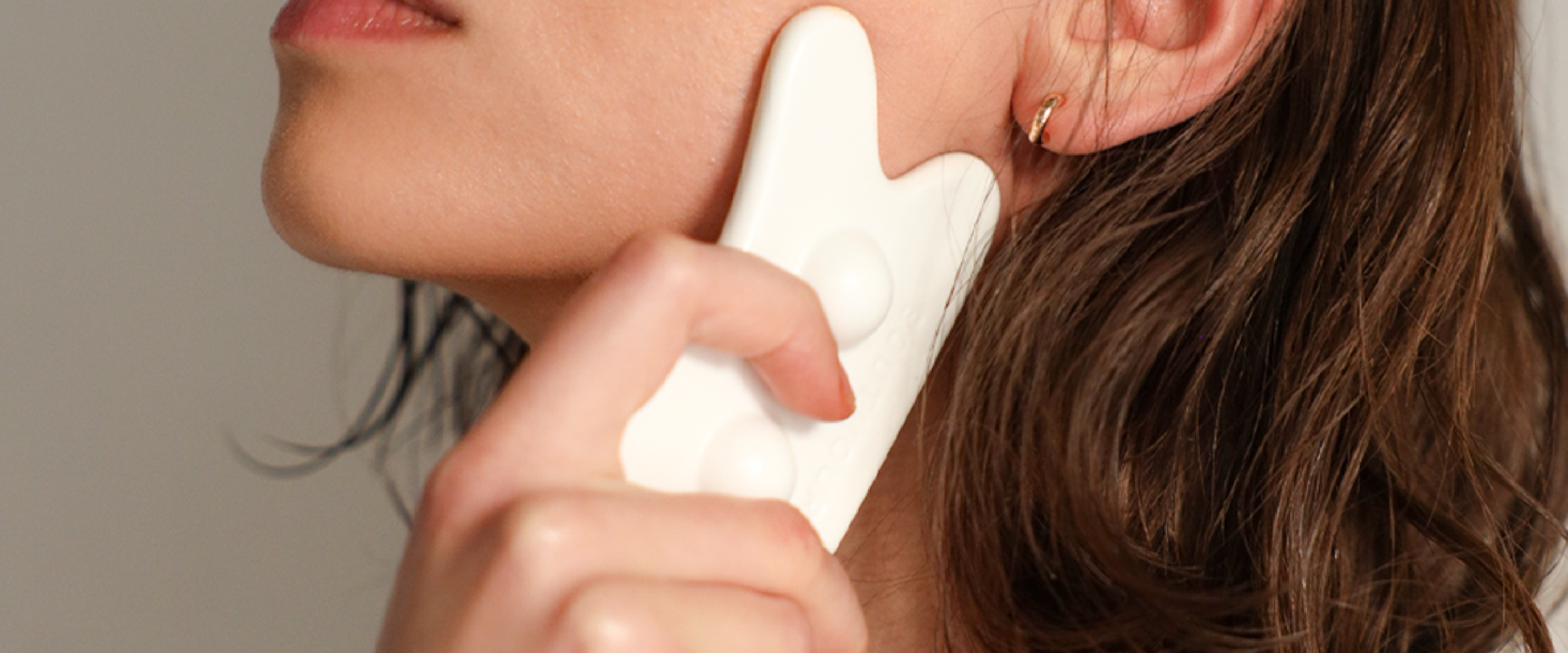 Sculpting & Lifting
Our daily choices hold significant sway over the aging process. Factors such as smoking, inadequate nutrition, a lack of physical activity, and high stress levels can expedite the appearance of fine lines, wrinkles, puffiness, and sagging skin. Notably, the principles of wrinkle and elasticity management, traditionally associated with those in their 40s and 50s, have now found a place of interest among individuals in their 20s and 30s. This phenomenon has given rise to a growing trend known as "early anti-aging."
More recently, a novel approach called "pre-care" has gained substantial traction. This approach involves initiating skincare routines that combat the signs of aging at a younger age and has garnered significant attention. It centers around the use of early anti-aging products that are not only effective but also seamlessly integrated into one's daily skincare regimen.
STEP 1.
Use Gua Sha for Contouring and Relaxation
Gua Sha massage has a rich history of efficacy in Asia, known for its ability to reduce swelling, promote lymphatic circulation, and aid in toxin removal. Interestingly, as time has passed, there has been a growing trend among the Gen Z who are embracing self-care at home, with Guasha massage gaining popularity.
In a world where people are increasingly seeking relaxation and stress relief, many are turning to Gua Sha massage as a simple and effective way to incorporate daily self-massage into their routines.
Our Bouti Gua Sha is crafted from 100% ceramic and thoughtfully designed to gently alleviate tension in various areas, including tired eyes, scalp, neckline, jawline, smile lines, and for lifting. It refreshes by releasing stress accumulated throughout the day and eliminates toxins from both your skin and body.
More tips:
If you're seeking to enhance the efficacy of your skincare routine for lifting, consider incorporating our clean lifting serum & lifting cream along with Gua Sha. The synergy would be remarkable, offering a holistic approach to skin rejuvenation. Our lifting serum & lifting cream is designed to nourish and hydrate, promoting elasticity and a brighter complexion.
STEP 2.
Try our Patent X-lifting mask
Stay firm, strong, and revitalized with the X-Lifting Mask—scientifically designed to enhance facial lifting. Its advanced X-weaving fabric and Hydrogel are enriched with botanical lifting and firming extracts such as Volufiline, Lotus, and Tea Complex. This mask delivers a sensational lifting experience, leaving you feeling invigorated and uplifted throughout the day with its resilient fabric.
Our advanced X-Lifting Mask—an innovative solution featuring a patented design meticulously crafted to lift the jawline, double chin, cheeks, and smile lines simultaneously. It's clinically proven for its efficacy in face lifting, jawline sculpting, double chin reduction, and smile line improvement.
Furthermore, this versatile mask extends its benefits beyond facial care. Explore its application on your legs or forearms for an additional slimming effect. Elevate your skincare routine with the serene effectiveness of our X-Lifting Mask, backed by clinical validation and patent design.
Skincare Routine by Life Styles